Operation Each One Reach One
Event Date: September 1, 2022 - October 1, 2022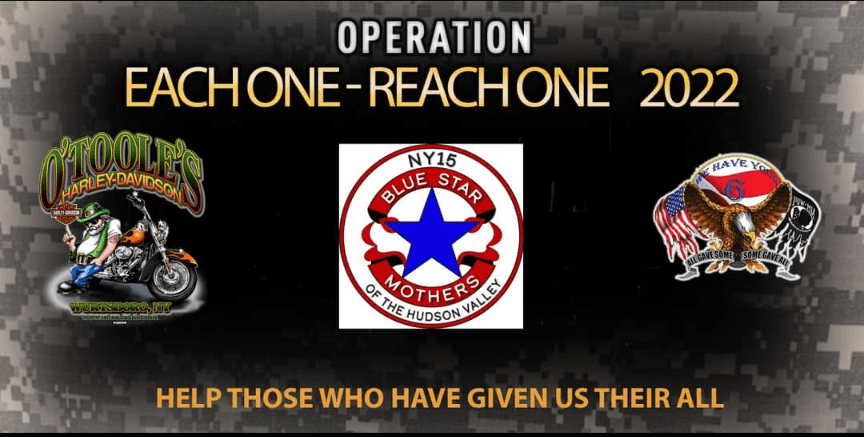 Sponsor A Veteran With A Survival Backpack!
Let's All Give A Little Something Back To Those Who Gave So Much For All Of Us.
Stop By One Of Our Drop-Off Locations To Donate A Completed Shopping List Or $50 To Fill A Backpack.
O'Toole's Harley Davidson: 4 Sullivan St, Wurtsboro, NY 12790
Leathernecks MC Clubhouse: 30 Lawrence Avenue, New Windsor, NY 12553
Shepherd's Eye Brewery: 9 Industrial Dr, Florida, NY 10921
Can't Make It To A Drop-Off Location? Visit The Link Below To Make A Donation.
Deadline For Donations Is September 23rd 2022*
*We Will Also Be Accepting Cash Donations During Registration For The Ride On October 1st 2022. See Our WHY6 Each One Reach One Ride Event Page For More Information.
Shopping List:
Men's Sizes L, XL & 2XL, Women's Sizes L & XL
Wool/Nylon/Acrylic Heavy Socks
Underwear
Thermal Top & Bottom Set
Zippered Hooded Sweat Shirt / Heavy Flannel Jacket
Water-Proof Non-Leather Gore-Tex Gloves
Acrylic Knit Cap
Toiletries

Toothbrush & Toothpaste
Mouthwash
Bodywash
Shampoo
Deodorant
Lotion
Comb / Brush
Shaving Cream
Disposable Razors